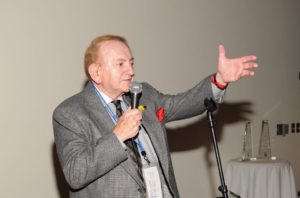 With great sadness, we mourn the passing of our loved one, Carl Meyers, who was also The Mathew Forbes Romer Foundation's founding Vice President of Growth and Development and a member of our Board of Directors. Carl passed away peacefully on Saturday, February 8, 2020.
Since the inception of our Foundation, Carl has been a leader and committed partner in our growth and development. One of his greatest accomplishments was establishing the College of Nursing Scholarship programs with Florida Atlantic University and Nova Southeastern University – programs that fall under our Nursing School Educational focus. Under this pillar, the Foundation has funded more than 40 nursing scholarships with FAU, FIU and NSU and created school training programs, including simulations demonstrating in-home family care.
As we mourn Carl, we also celebrate the beautiful legacy he leaves behind as part of our Foundation. Thank you, Carl, from all of us. We love you!
Please join us at this year's 22nd Annual "Sweetness & Laughter" Gala and "See the Light" Awards ceremony on Sunday, March 15, 2020 at 11:00 am to help honor Carl's legacy and his contributions to The Mathew Forbes Romer Foundation. Ticket information can be found here.
About Carl Meyers
Formerly of Brooklyn, New York. The Meyers family moved to South Florida in 1988. Preceding him in life, was his loving wife, Roberta and cherished grandson Mathew. Adored father of Lisajane (Kevin) Romer of Delray Beach, FL, and Ellen (Howard) Bloom of Newton, MA. Cherished Grandfather "Pop Pop" of Jeffrey and Alexis Romer and Kyle and Leah Bloom. Beloved brother of Laura (Mel) Yorke of Wantagh, NY. Plus, many nieces, nephews and cousins.
Through his 60 years in the Sports and Entertainment industry, his accomplishments include creating the National Hockey League Monday Night game of the week, the Madison Square Garden Network Giants Journal as the Executive Producer, and helped promote and grow the Miss America Pageant and American Black Achievement Awards.
During his retirement, his accomplishments included: Founding Board Member and Vice President of Growth and Development of the Mathew Forbes Romer Foundation. Carl valued relationships with Family and Friends above all else. He had a profound appreciation for everyone's personal experiences and would celebrate happy milestones and provide assistance through his multitude of contacts and connections.