Co-Founder and President of 12-Year-Old South Florida Education and Research Foundation Strengthens Partnership with Oldest National Genetics Organization.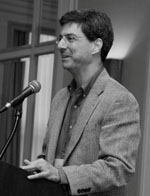 BOCA RATON, FL (May 17, 2011) – The Mathew Forbes Romer Foundation (MFRF), a not-for-profit organization based in South Florida dedicated to the education and research of children's genetic diseases of the brain, today announced that its co-founder and president, Kevin Romer, has been elected president of the National Tay-Sachs & Allied Diseases Association (NTSAD).
NTSAD was founded in 1957 and is the oldest genetics-based non-profit organization in the United States.  MFRF, which was established in 1998, is the South Florida affiliate of NTSAD.  Romer has been a NTSAD board of directors member since 2000, and his election marks a significant milestone in MFRF's history.
"I am honored to be assuming the role of President of NTSAD – a truly world class organization and network – at such as exciting time in our history," said Romer.  "The memory of our son, Mathew, and so many other wonderful children continues to be our inspiration for the tireless work we pursue toward treatments and cures for these fatal diseases."
NTSAD's mission is to lead the fight to treat and cure Tay-Sachs, Canavan and related genetic diseases and to support affected families and individuals in leading fuller lives.  The NTSAD Research Initiative was co-founded by MFRF and NTSAD and has funded close to $2 million for 25 critical projects.  These projects led to an additional $7 million in federal funding for research from the National Institutes of Health.  The Tay-Sachs Gene Therapy Consortium, which is supported by the Initiative, has announced an unprecedented goal of reaching clinical trials with children for Tay-Sachs and Sandhoff disease in one to two years following demonstration that treated mice can live full life spans and treated cats are still thriving three times longer than untreated.  These breakthroughs will benefit an array of diseases affecting the brain and central nervous system.
"In his new role, Kevin's local and national experience will continue to be invaluable to NTSAD," said Susan R. Kahn, NTSAD executive director.  "Under his leadership, we will continue to move forward the major projects and services that benefit the children and families affected by our almost 100 related diseases."
Romer was elected Board president at NTSAD's Annual Members' Meeting which was held at the 33rd Annual Family Conference.  There, over 200 people from around the country participated in three days of programs ranging from home care and support to medical and scientific updates.  In addition, 85 leaders in science and medicine from around the world participated in NTSAD's Scientific Symposium, which focused on bringing new treatments to patients that are today on the brink of being translated from animal models to human clinical trials.
Inspired by the strength of Mathew Romer, who lost his eight-year battle with Tay-Sachs disease in 2003, MFRF was founded in South Florida to support education and research of children's genetic diseases of the brain. In 12 years, MFRF has raised almost $1.5 million to fund access to quality genetic testing, genetic diseases research, and diagnostic and treatment options.  In addition to national projects with NTSAD, MFRF has driven key initiatives including:
Pioneering the South Florida Genetic Testing and Education Fairs in 2003 and partnering with Genzyme Genetics and the Victor Center at the University of Miami (UM) to screen almost 1,000 potential parents
A variety of other genetics education and outreach programs with UM
The State Center for Rare and Genetic Neurological Disease research with Florida Atlantic University (FAU)
Over 15 pediatric and genetic nursing scholarships with FAU, Florida International University, Nova Southeastern University, and Broward Community College
Neurogenetic patient registry through the Miami Children's Hospital Brain Institute
National Jewish Genetic Disease Consortium education efforts
The International Tay-Sachs Quality Assurance Laboratory training video and manual
For its efforts, MFRF and it founders have been recognized by the Palm Beach County Medical Society as "Heroes in Medicine."
For more information, call MFRF 561-477-0337 or visit www.mfrfoundation.orgor call NTSAD at 1-800-90NTSAD (1-800-906-8723) or visit www.ntsad.org.