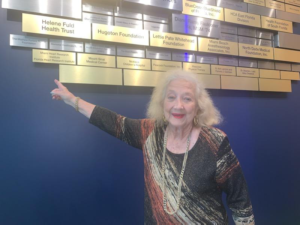 Linda Meran and Carole Romer from the MFRF Board had the pleasure of representing the Foundation at the FIU Nicole Wertheim College of Nursing & Health Sciences Donor Wall Unveiling & Holiday Celebration.
The beautiful Donor Wall was  revealed after several presentations, including those by FIU President Dr. Marc Rosenberg and  Dean Ora Strickland.
We were welcomed warmly and told by every speaker how meaningful each donor contribution was to the College, faculty and students. The "thank yous" were heartfelt and sincere.
Carole and I were very proud to see The Mathew Forbes Romer Foundation name on the Donor Wall.
Afterwards, we were treated to a lovely buffet accompanied by holiday music and picture-taking.
The professors and students we met at the reception were all very impressive and grateful for our generous donations. They are looking forward to our continued support!